Rea
d my feedback at Doctify
here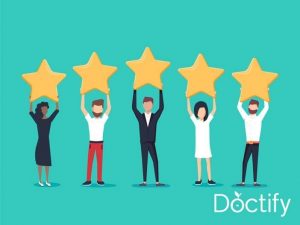 Doctify June 2023
"Dr O'Reilly took the time to explore all my symptoms and to explain the different things we needed to get to the bottom of my problem. I felt very well taken care of and I'm happy to be under his care for my condition.
Formal feedback from patients-2023
Source 32 patients in my clinics from 2023.

All collected and analysed anonymously.

Here are all comments received.
"Dr O'Reilly has helped me through one of the hardest periods of time in my life…Physically I didnt know what was happening to me and he was always at the end of the phone, or email…always got back to me telling me the best way to move forwards…. When it became obvious what the problem was he liaised with my GP late on a Friday afternoon to make sure that I could start the treatment there and then. A few days later the improvement was huge, and for the first time in months I felt that I was going to be pain free and could start to be active again. I couldn't thank Dr. O'Reilly enough."
"Dr O'Reilly is vey prompt in replying to emails or phone calls and will go out of his way to see you quickly!"
"Excellent visit resulting in a timely solution to my problem."
"Very friendly, engaging and seemed genuinely concerned about my issue."
"Thorough and very professional, an absolute delight to meet Dr O'Reilly."
"Made me feel at ease. Easy to talk to. Gave me time to ask questions."
"He was very understanding and took time to listen to me and give me good advice."
"He was very helpful in every possible way, and I have every confidence in him."
"The treatment I have received from Dr'OReilly has been excellent. He responds to e-mails within half an hour and gets things done really quickly."
"Extremely helpful and informative. Follow up letter has provided everything I have needed to move forward with getting some physio organised having identified what the problem was. Hopeful that treatment suggested will improve my condition. The doctor was very pleasant to deal with, very efficient in providing the follow up paperwork and I would highly recommend him to others."
"A great professional. I always feel at easy and he walked the extra mile advicing me about treatments and even redirecting me to other colleagues. Very informative, efficient and welcoming."
"The doctor was polite and very easy to talk to. I was encouraged to talk at length about my problem and past medical history. The doctor carried out a very thorough examination and discussed the test options he was recommending as the next steps to address my condition. I received a copy of the doctor's report within a few days of the consultation. The report was most detailed and an excellent summary of my situation. I will be recommending the doctor to friends and family who requires similar consultant advice."
"Dr O'Reilly is exceptional, thorough in process of diagnosis, regularly checking on medication for side effects and efficacy and referring me for wider support for RA."
"Fantastic and very reassuring service."
Formal feedback from colleagues-2023
Source 13 NURSE, Consultant, and Managerial colleagues from 2023.

All collected and analysed anonymously.

Here are all comments received.
"Valuable member of the outpatients team, very approachable & knowledgeable, always willing to offer specialist advice & management suggestions. Patients feedback that Dr O'Reilly is caring, thorough, empathetic &, really listens to their concerns."
"A most professional and caring consultant."
"David is an exceptional colleague who uses his great knowledge and experience to treat patients in a courteous and empathic way. David is an example for younger generations."
"Excellent clinician , very knowledgeable , a very colleague , good communication skills Very good clinician."
"David is an outstanding doctor and an excellent colleague. Whenever I don't know what is wrong with one of my patients David has an insightful way of getting to the root of the problem."
"Dr O 'Reilly a huge support to the nursing team, always helpful, sincere and honest and put the patients first , and communicates effectively with the nursing team, excellent colleague
Very friendly and well liked member of the team, both by staff and patients."