'I went to see Dr O'Reilly with chronic neck, shoulder and lower back pain. His communication throughout the whole process has been excellent and is always happy to answer any questions even through email. The consultation was informative and had good explanation of what is causing the chronic pain. Very professional throughout the appointment and listened to what I had to say. Overall, a very positive experience, would highly recommend.' Doctify 

October 

 2022
'Face to face' appointments are available in Bury St Edmunds and  Cambridge.
To arrange a consultation in Cambridge contact the Spire Hospital on 01223 266990

For appointments at the BMI Bury St Edmunds Hospital call 01284701371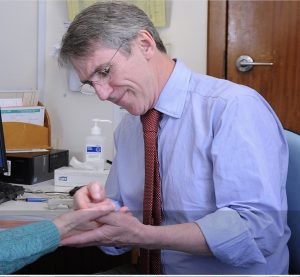 Enquires about appointments can be emailed to Dr D O'Reilly directly here
Please read my recent reviews on Doctify
About Appointments
It is always best to ask your General Practitioner to write a referral letter with details of your problem and the relevant background. However, I am happy to see patients without a formal referral letter.
Please ask your GP Surgery to prepare an electronic summary of your case notes and a summary of your blood tests and Xray / Scan results to bring with you or email in advance.
For private appointments I can see patients referred by GPs, Physiotherapists, Practice Nurses or other appropriate professionals.  I also see self-referred patients.
I aim to give plenty of time for consultations so all appointments are booked for 60 minutes.
If an appointment is required urgently please email me or speak to the hospital booking teams who can contact me directly.
If you have any questions you can contact me directly by secure email here.
Cancellations
Sometimes patients need to cancel their appointments.  If you need to cancel please contact the hospital to let them know and please give as much notice as possible so someone else can be seen instead.  I reserve the right to charge for very late cancellations, please look here.  
'Dr O'Reilly was thorough, showed patience and explained his process clearly.' Doctify, Dec 2021