Booking appointments
COVID 19 VIRUS PANDEMIC  
From the 23rd of March I have switched to on-line consultations using 'FaceTime', 'WhatsApp' and 'Zoom' software.  This is recommended by the National Health Service, the General Medical Council and the national regulations on slowing the spread of the virus. Most 'Private' Hospitals are restricting 'Face to Face' outpatient visits to the most urgent cases.
Most medical insurance companies have approved this, however insured patients should confirm the 'on-line' appointment with their insurers beforehand. 
Enquires about appointments can be emailed to Dr D O'Reilly directly here.
About Appointments
It is always best to ask your General Practitioner to write a referral letter with details of your problem and the relevant background. However I am happy to see patients without a formal referral letter.
For private appointments I can see patients referred by GPs, Physiotherapists, Practice Nurses or other appropriate professionals.  I also see self referred patients.
I aim to give plenty of time for consultations so all appointments are booked for 45 minutes. You can ask for longer appointments at booking.
If an appointment is required urgently please email me or speak to the hospital booking teams who can contact me directly.
If you have any questions you can contact me directly by secure email here.
Nuffield Cambridge
Thorough & took his time explaining everything to me
BMI St Edmunds, Suffolk
Dr O Reilly was very polite & very good at treating my long term Gout, I would certainly recommend him to other patients.

Bedford BMI The Manor Hospital
Contact 0808 101 0337
Demonstrated an excellent grasp of his speciality area. Very clear on treatment options. Impeccable 'bedside' manners. What more could you want?
Spire Cambridge Lea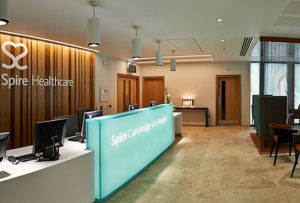 Very reassuring appointment as was my previous appointment with Dr O'Reilly some time ago. I was not rushed with explaining my health issues and was listened to carefully. Kind and caring. Thank you.

Doctify st February 2020