During the Covid 19 restrictions I am conducting only video and telephone consultations – read more.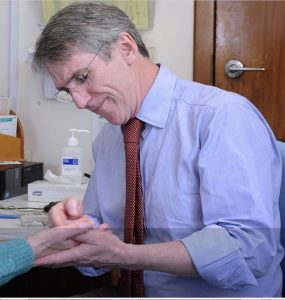 Specialist Rheumatologist in Cambridge, Suffolk and Bedford.
As a Specialist Rheumatologist I manage a wide range of musculoskeletal and inflammatory disorders.
I work in Private Practice at the BMI hospitals in Bury St Edmunds and Bedford, and at the Spire and Nuffield hospitals in Cambridge. Until July 2019 I was NHS Consultant Rheumatologist at the West Suffolk Hospital.
My special interest is the diagnosis, assessment and treatment of Rheumatoid, Psoriatic and all other forms of arthritis. However in my every day work I manage the full range of Rheumatological problems, see 'Conditions treated' for more information. You read feedback from my patients at'Doctify.co.uk'and 'IWantGreatCare.org'
My clinic appointments are booked at 45 minute intervals to give plenty of time for assessment and explanation. I am happy to give patients my email address and mobile number and encourage them to contact me for advice or to discuss their care.
If you are uncertain if Rheumatology is the speciality you need you can send an email: click on 'contact me'and I will advise you.
Training, Qualifications & Experience
Over 25 years experience as Consultant in a busy Rheumatology department in Bury St Edmunds to 2019
Named as a "Distinguished Member" by the British Society of Rheumatology, 2016
Fellow of the Royal College of Physicians
1978 Degree in Medical Sciences and Pathology Jesus College Cambridge
1980 Qualified Cambridge University School of Medicine
Trained in Medicine in Nottingham and Rheumatology in Manchester
Appointed NHS Consultant Rheumatologist and Physician 1993
Tricare Network preferred specialist provider